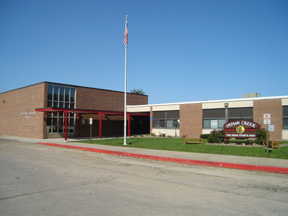 2900 Indian Creek Rd,
Marion, IA 52302
Main Office: (319) 447-3270
Attendance Office: (319) 447-3272
Fax:  (319) 373-9233
Grades: Kindergarten – 5
Enrollment: 570 as of October 2017
Mission Statement
To develop and empower all learners to reach their highest potential, we embrace the following mission statement:
Success for all every day.
---
Volunteer Workshop ~ Thursday, September 6, from 8:30-10:30 AM, in the Indian Creek multi-purpose room, will be the first volunteer workshop of the 2018-19 school year.  We would love to have your help.
5th Grade Parent Night ~ Thursday, September 6, at 6:30 PM will be the 5th grade parent night informational meeting.
PTO Meeting ~ Monday, September 10, at 6:30 PM will be the first PTO meeting of the 2018-19 school year.  We would love to have you join us and welcome your ideas and input.  All are welcome to attend.  Remember it takes all of us working together to make a great community here at Indian Creek!
Volunteer Orientation ~ Tuesday, September 11, at 9:00 AM will be Indian Creek's volunteer orientation for our new volunteers in the Indian Creek multi-purpose room
Stride for PRIDE ~ Friday, September 21, Indian Creek PTO will be hosting Stride for PRIDE.  Be watching for more details to come.
Click on the following links for helpful information.
---
Office Staff
| Name | Title | Email |
| --- | --- | --- |
| Kelly Kretschmar | Principal | Email |
| Pam Harder | Secretary | Email |
| Kelly Ward | Guidance Counselor | Email |
| Maurice Frazier | School Facilitator | Email |
---
Arrival & Dismissal Times
If your child will be absent from school please call the office, (319) 447-3272 by 8:15 am. Please give your name, the student's name, homeroom teacher and reason for absence. If your child needs to leave school during school hours a written note should be sent to your child's teacher. Please include the name of the individual who will be responsible for picking up your child. The student must be signed out in the office. When returning to school the student should be reminded to report to the office before returning to his-her classroom.
Weather Related Late Arrival/Early Dismissal
Announcements will be on radio and television stations as soon as possible. In extreme situations, school may be closed for an entire day. Please listen to radio stations WMT (AM 600 or FM 96.5) or KCRG (AM1600); or television stations KGAN (Channel 2), or KCRG (Channel 9).
Before/After School Care
Hand in Hand Child Care offers before and after school child care at Indian Creek Elementary. The program provides childcare on inservice days, some vacation days and during early dismissal times. Drop-in childcare is available. For more specific information regarding program fees, registration information, staff and activities, please contact Hand in Hand.
Hand in Hand, Inc
(319) 377-5686
Email